THIS PAGE IS FOR NON-PROFIT ORGANIZATION THAT A MONTHLY DONATION WILL BE MADE TO EACH ORGANIZATION. ANYTHING BOUGHT OFF OF THIS PAGE THE MONEY GOES TO THE ORGANIZATIONS. SO ANY HELP WILL BE WONDERFUL AND IS GREATLY NEEDED. THANK YOU SO MUCH FOR YOUR HELP. I HAVE BEEN SELLING AUTOGRAPHED ITEMS I HAVE GOTTEN OFF OF MANY WONDERFUL AUTHORS AND MANY WONDERFUL FOOTBALL PLAYERS FOR SEVERAL OF MY NON-PROFIT ORGANIZATION. RIGHT NOW I HAVE $19.75 WE ARE UP TO $29.75, KEEP IT COMING FOR THE LOVABLE CAT. MADE FOR SABATION. I MAKE A MONTH DONATION TO HIM FOR HIS MEDS HE NEEDS, FOR HIS HOUSING, FOR HIS FOOD, FOR ANYTHING HE MAY NEED, AND I WOULD LIKE TO THANK EVERYONE THAT HAS HELPED ME.
Sebastian, was abused and needs help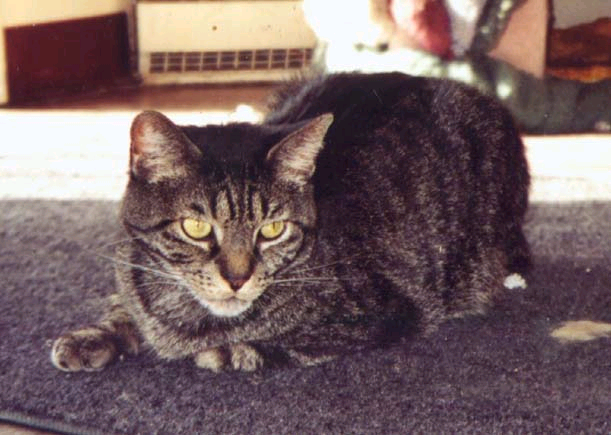 any help for this wonderful cat would be great!
Sebastian is a wonderful guy who was thrown from a third-story balcony, so he has neurological problems and sometimes forgets where the litter box is, so he is a permanent resident.
He needs a sponsor parent. By participating in the Sponsor-A-Cat program, you have the opportunity to be the only family that this animal may ever have. Even if you are participating long distance and cannot visit your sponsor cat, you have the security of knowing that this cat will have a home and warm place to sleep for the rest of its life. Without your help, his/her future is uncertain.Once you have selected your special kitty, complete and mail-in the following form and you will receive a certificate with a photo of your special kitty. If you have questions regarding the Sponsor-A-Cat Program,
click here
.
ITEMS THAT IS FOR SALE THAT THE PROFIT WILL GO TO SEBASTIAN ARE THE FOLLOWING:
[002430] Jennifer Crusie. welcome to Temptation. ill. St. Martins. Paperback. like new
$4.00
[002788] Jennifer Crusie. tell me Lies. ill. St. Martins. Paperback.
$3.00
[001395] Amanda Scott. Border Storm. Paperback. brand New
$3.00
[002485] Anne Rice. The Vampire Lestat. Paperback.
$2.00
[000823] Anne Rice. The tale of the body Thief. Paperback.
$2.00
[003045] Barbara Dawson Smith. Romancing The Rogue. ill. St. Martins. Paperback. brand New
$3.50
Enter supporting content here